Lowongan Kerja Posisi Transportation Dispatcher di Adaro Energy
DESKRIPSI LOWONGAN KERJA
Job Responsibilities:
Responsible to handle loading & unloading process (concrete & other materials) specifically around batching plant area.
Job Requirements:
Minimum Diploma (D3/STM) in Construction Engineering
Minimum 8 years of working experience in Batching Plant
Have proven experience in coordinating & controlling unloading & loading process of construction materials both from mixer truck to site area & from batching plant to Mixer Truck
Able to do the Slump Test
Strategic thinking ability & have good communication & interpersonal skills
Willing to be based in Bulungan, North Kalimantan Site
For apply, please apply through our career page: www.adarocareer.com
Only candidates who apply through Adaro Career page will proceed.
*Only shortlisted candidates will be contacted.
*Our entire selection process is free of charge.
Informasi Tambahan Lowongan Kerja
Tingkat Pekerjaan : Supervisor/Koordinator
Kualifikasi : Tidak terspesifikasi
Pengalaman Kerja : 8 tahun
Jenis Pekerjaan : Kontrak
Spesialisasi Pekerjaan : Pelayanan, Logistik/Rantai Pasokan / 505, 147
Informasi perusahaan Pemberi Kerja, Adaro Energy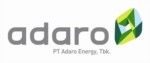 ANNOUNCEMENT :
PT Adaro Energy Indonesia Tbk never charge any fees in the recruitment process.
PT Adaro Energy Indonesia Tbk has never worked with any particular travel agent in the recruitment process.
Please ignore if you are required to pay some money in the form of airline and hotel or other accommodation payments.
Do not give out any personal and financial information to anyone.
Informasi Tambahan Perusahaan Adaro Energy
Ukuran Perusahaan : 2001 – 5000 pekerja
Waktu Proses Lamaran : 29 hari
Industri : Pertambangan
Tunjangan dan Lain-lain : Asuransi kesehatan, Waktu regular, Senin – Jumat, Bussiness and Uniform
Lokasi : Kalimantan Utara