Lowongan Kerja Posisi Medical Sales Representative – Veterinary di PT. AKTIF SAINTIFIK INDONESIA
DESKRIPSI LOWONGAN KERJA
We are looking for a Medical Sales Representative – Veterinary to determine prospective clients and expand sales in the country. The ideal candidate should have the relevant experience, knowledge and understanding of the Veterinary Sales Market/Industry in Indonesia. The position will be based at our offices in Jakarta, Sumatra, Kalimantan and Sulawesi. The sales representative will work diligently to identify leads, educate prospects on products through calls, trainings, and presentations, and provide existing customers with exceptional after sales support.
RESPONSIBILITIES:
Gaining market share in specific business by promoting and selling medical devices and consumable products within assigned territory.
Make territory sales plan by products and by customers in accordance with assigned sales target.
Achieve sales target both in products and number of customers as per monthly and quarterly plan.
Prepare itineraries and daily activities report of what has been done and how much sales achieved on that day.
Report on competitor's activities and market situation.
Expand and penetrate the market with both new and existing products.
Promote product through good product knowledge.
Honest and appropriate way of promotional materials use.
Keep excellent and prompt communication between customers and the company pertaining to business.
Keep good relationship with the principal, customers and colleagues.
Review regularly the customer master list and recommend for alteration.
Submit all required reports on time.
Responsible for detailing, promotion and selling of the partners range of products to healthcare professionals.
Responsible for providing excellent customer service to doctors, hospitals, private clinics, specialists and laboratories
REQUIREMENTS;
Diploma / Bachelor degree in Medical Science/Biomedical/Electrical & Electronic/Marketing/Economics/Business Administration/Marketing (preferred but not mandatory).
Superior product knowledge. Able to absorb complex technical product knowledge.
2 -3 year's experience in veterinary related industries is an added advantage.
Preference will be given to candidates who is technically versed with Veterinary medical devices used in Pet Clinics, and small/medium Vet Clinics. He or She should ideally have a number of years in sales experience relating to the mentioned devices.
Good knowledge of Medical and Healthcare Procurement System in Indonesia (Public & Private) is a Pre-Requisite.  
Ability to plan, organize, monitor and execute CME/workshop/technical training session.
Highly self-motivated, strong interpersonal, communication and negotiation skills.
Candidates must be willing to travel extensively.
Microsoft Word, Excel, Power Point skills.
Results and quality oriented.
Excellent team player.
Good command of English and Bahasa Indonesia.
Extensive product and sales training will be provided.
Applicants must possess own vehicle with a valid SIM.
Informasi Tambahan Lowongan Kerja
Tingkat Pekerjaan : Pegawai (non-manajemen & non-supervisor)
Kualifikasi : Sertifikat Professional, D3 (Diploma), D4 (Diploma), Sarjana (S1)
Pengalaman Kerja : 2 tahun
Jenis Pekerjaan : Penuh Waktu
Spesialisasi Pekerjaan : Penjualan / Pemasaran, Penjualan Ritel / 503, 145
Informasi perusahaan Pemberi Kerja, PT. AKTIF SAINTIFIK INDONESIA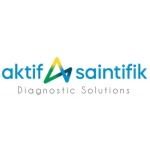 Aktif Saintifik Indonesia primes itself to be the leading medical device distributor for the nation. We uphold our motto of being your trusted partner in diagnostic solutions.
We are committed to creating value through forward looking engineering, innovative thinking, outstanding technology and providing the best services in the industry.
Informasi Tambahan Perusahaan PT. AKTIF SAINTIFIK INDONESIA
Ukuran Perusahaan : 1- 50 pekerja
Waktu Proses Lamaran : 10 hari
Industri : Kesehatan/Medis
Tunjangan dan Lain-lain : Tip, Asuransi kesehatan, Parkir, Waktu regular, Senin – Jumat, Bisnis (contoh: Kemeja)
Lokasi : Jakarta Raya